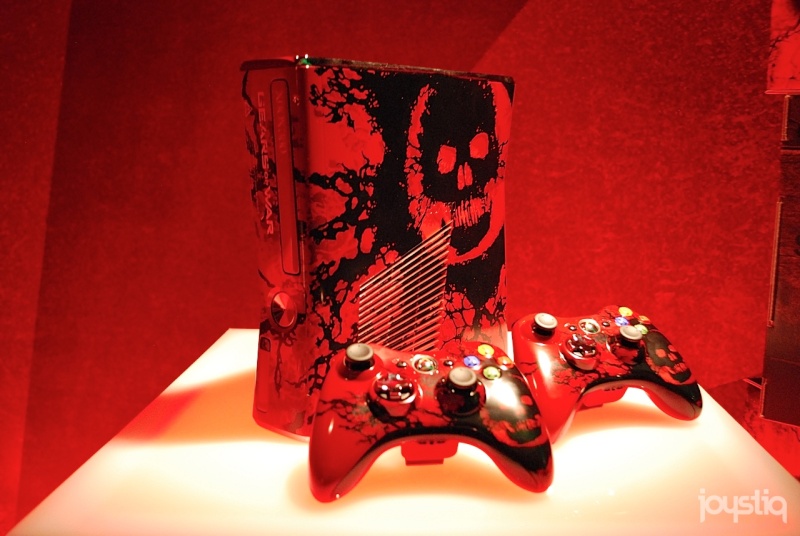 For $399, you can snag the console bundle (which has special sound effects like the Halo: Reach console), which features a 320gb hard drive, two Gears of War 3-branded wireless controllers, a copy of the game, headset and two pieces of DLC: the Infected Omen Weapon pack, skins for the game's starting weapons (the Lancer, Retro Lancer, Gnasher, Hammerburst and Sawed-Off Shotgun) and the Adam Fenix multiplayer character. This bundle goes on sale September 20.
If you're looking for just a special controller, you can snag one of them for $59.99 starting on August 11 -- which has that new transforming d-pad and the aforementioned in-game content. Hit the gallery below for some shots of the new hardware, conveniently posed up against a red wall. So much red!
Colonel





Posts

: 3113


Join date

: 2010-02-26


Age

: 41


Location

: Tulsa, Oklahoma


GamerTag

: S7 DROOPY



so Droopy you're buying one for the prize closet?

_________________
Follow my stream ---->
Wiggles78 on Twitch.tv

Clan Member Since 11/11/04
Master Sergeant





Posts

: 1739


Join date

: 2010-02-25


Age

: 34


Location

: Palmyra, NY


GamerTag

: Wiggles1778



I'll probably snag one of those controllers for the top half. Wish they sold the faceplates.
_________________
Clan History: R6 Vegas XO, Chromehounds XO, GoW 1 GC, Homefront XO, GoW 3 GC, Halo 4 GC, COD Ghosts Warrant Officer
***Pwning OC since 2/5/2006
Colonel





Posts

: 7924


Join date

: 2010-02-28


Age

: 28


Location

: Spokane, WA


GamerTag

: AtrumX



Yep, need a new controller anyway. Not going the complete bundle route but it is sweet!
_________________
Colonel





Posts

: 5700


Join date

: 2008-03-18


Age

: 47


Location

: Upper Marlboro, Maryland


GamerTag

: S7 K1ll3rKlown



agreed i have the halo reach xbox
not hurting for a bigger hard drive anytime soon
so ill pick up a controller for sure

and if and when i need a bigger hard drive ill just pick up one of this ones hard drive
Brigadier General





Posts

: 10487


Join date

: 2008-11-10


Age

: 30


Location

: El Paso Tx


GamerTag

: S7 Sticky



Sergeant Major





Posts

: 3130


Join date

: 2010-02-26


Age

: 29


Location

: Leeds, UK


GamerTag

: S7 Epic DDN




---
Permissions in this forum:
You
cannot
reply to topics in this forum